Massive KW Team Joins EXp R
Why I left Keller Williams KW and Chose EXP Realty
SHARE THIS:
It's been 30 days now since I have left Keller Williams Realty in Novi, Michigan. There isn't a day that goes by now that I don't get multiple calls and emails from Realtors asking why I left Keller Williams after 12 years and a lot of success. Why did me and my team of 30+ Realtors and staff just pick up and leave? I have sold over 5,000 homes in my career and the last two years were the best years of my entire career selling over $200 MILLION DOLLARS consisting of over 900 transactions. Why in the world would I walk away from this right? I loved Keller Williams and always told myself if I left I would never do another franchise again. So why didn't I just do my own brokerage and keep 100% of the income instead of working for another brokerage? Both are great questions.
It all started about a year ago when a building came for sale in the same city I have always worked. Huntington Bank was acquiring FirstMerit Bank so they shut this location down and listed it for sale. It was the perfect building with a little less than 4,000 square feet and priced at $700,000. I was very excited and just gave them full price. I closed on it thirty days later. I started working on architectural plans & renovations. All of my dreams were set to come true. I was going to start my own independent brokerage called MARK Z. Real Estate Experts.
I had a great working relationship with my OP(operating principal) and I respect her tremendously. She's one of the smartest people I have ever met. I sat down with her and other managers in the office and was completely transparent. I told them my plans but didn't know a time line. They were very supportive and although they didn't want to see me go they understood that it was just a matter of time before I would start my own brokerage. After all every single system, equipment and tools that we use on my team I owned except for a few desks. When I say everything I mean it. All thirty computers, phones, monitors, headsets, 23 different phone numbers for tracking marketing sources, websites, office supplies, copiers, printers, and so much more. There were 35+ people at all times among the various companies I own including my property management company JMZ Management, home improvement company Mario Brothers Home Improvements,& Z Apartment group. We occupied approximately 2,000 SF in our Keller Williams office suite.
Once I gave notice, my operating principal(majority shareholder) would want to meet with me at least once a month to check and see how my plans were coming and to see if there was something we could of possible done to keep me in the KW family. I can appreciate where she was coming from and wish there was a way to make it work for the both of us, but I couldn't see it. There was nothing at Keller Williams I was utilizing. I generated 100% of my own business and owned all of my systems and tools.
Each time we met she kept telling me that she is hearing rumors that I was going to join eXp Realty. Honestly I had never really looked at it. She kept bringing it up every time we met that I gotta admit I was somewhat curious why she was so concerned. So I looked into it. In the background Jay Kinder and Daniel Beer were both trying to get me to sit down and watch a webinar. I avoided it for months. Until one day I said you know what it can't hurt. I watched the webinar and I felt like I I just struck gold. I felt like I was given all of the tools, technology & systems to be able to not only help my team members succeed at a higher level, but any Realtor for that matter. This was such an easy sell. As my buddy Jay Kinder said to me "Once you see it, you can't unsee it." That always stuck with me. Not only did I love the entire cloud based agent owned brokerage model, but the revenue sharing plan was real. Unlike profit sharing this is simply based on revenue. Meaning the office doesn't have to be profitable for you to get paid on the agents that you sponsor. Every time an agent sells a home that you sponsor EXP Realty pays you 3.5% of their commission up to $2,800 every year. But it doesn't stop there, you actually get paid on six people below that person.
Revenue Share vs Profit Share: Again big difference between Revenue sharing vs Profit sharing. In the profit sharing model the company has to be profitable before money is distributed to the agents. In the EXP revenue share model, you get paid when the agent sells a house period, no questions asked. It's not based on whether the office or the company is profitable. Game changer. I personally know many people in EXP earning $20,000 to $100,000 a MONTH IN REVENUE SHARING! The Realtor who is six above me(so I'm his 7th level) earned over $100,000 last month as I write this. He has 55 sponsored agents and those 55 agents brought in over 1,600 agents. It grows quickly. What I love about the way they set up the revenue sharing model is that they give you more money for your 2nd level recruit(so the person that is under the person you sponsored) than they do the first level. Why you ask? Because they want to encourage you to help build the person's down line knowing that if you do that the person will be very excited to start building their own. Genius if you ask me.
Company CAP: EXP takes 20% of each commission check until you pay a $16,000 CAP. Then after you CAP, you pay just a $250 transaction fee for 20 transactions. But get ready for this! After you pay in $5,000 in transaction fees, which is 20 transactions, the company grants you $16,000 back in stock shares! I'm not joking! $4,000 of it is available immediately and the remaining $12,000 is vested for three years. But who cares, I'm not leaving. So every year I get $16,000 back in EXP Stock, because it's a public traded company. The stock symbol is EXPI. It's currently at $13.76 a share. Last year at this time it was under $4 a share. As you can see it's moving for obvious reasons.
| | | |
| --- | --- | --- |
| At Avg Sales Price $275,000 | Keller Williams | eXP Realty |
| Gross Commission At 3% | $8,250 | $8,250 |
| KW 70/30 CAP | -$2,450 | |
| eXp 80/20 CAP | | -$1,650 |
| KW Franchise Fee 6% | -$495 | |
| eXp Franchise Fee 0% (There Isn't One) | | $0.00 |
| eXp Broker Review Fee | | $25 |
| Your Net | $5,305 | $6,575 |
| +/- | | |
Retirement Plan & Stock Purchase Program: B
the full story https://www.markzproperties.com/blog/why-i-left-keller-williams-and-chose-exp-realty.html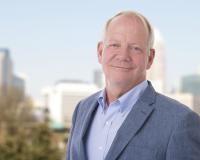 Author:
Terry McDonald
Phone:
704-390-6221
Dated:
January 29th 2019
Views:
728
About Terry: My Relocation Story I came to Charlotte, from Hoboken, NJ, just outside the NYC area with a wife ...